20/10/2012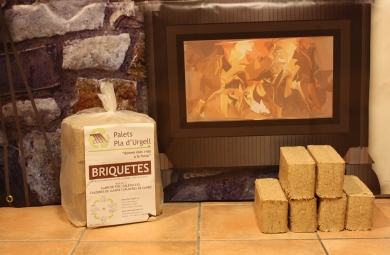 The Segre newspaper highlights the quality of our briquettes
In its October supplement on heating the Segre newspaper highlighted the value of Palets Pla d'Urgell's biomass briquettes. In an article titled "Briquettes, sustainable heat", the newspaper points out that "faced with the rise in fuel prices, people have looked towards cheaper and more sustainable systems", like those which use firewood for heat.
"It's the case of the briquettes destined for wood and coal boilers" adds the article, which highlights its high calorific power "in the region of approximately 5000 kcal/kg". The newspaper also highlights the comparison with dry firewood, affirming that 10 kg of briquettes provide the same heat as 17kg of dry firewood.
Likewise, it specifies that while dry firewood maintains the temperature at 38º for around 10 hours, briquettes can last up to 18 hours. It's not the first time that the press has shown interest in Palets Pla d'Urgell's briquettes. Last year, the magazine Eix Professional published a report on this product.
---