14/04/2013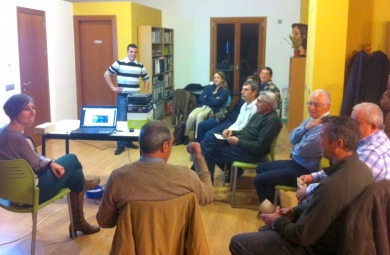 Palets Pla D'urgell gives a conference on biomasse heating in Borges Blanques
On the 28th of March two representatives from Palets Pla D'Urgell gave a talk in La Llena's facilities in Borges Blanques on wood briquettes as fuel for wood, coal and biomass boilers.
The talk, which was free of charge with pre-inscription, explained the briquettes' characteristics as an economic alternative to oil. Participants learnt of some of the advantages of this fuel such as its high calorific power, the fact that they don't produce ash, that they last much longer than wood and that they are easy to transport and store.
In the talk the company history was explained, as were the different services they offer: repairing of used pallets and collection of wood residues. The company also presented its products: kindling, sawdust and wood briquettes.
La Llena is an organization which has been working in the environmental sector since 1998 and which tries to resolve and better manage the human and economic impact on the environment.
---