20/05/2013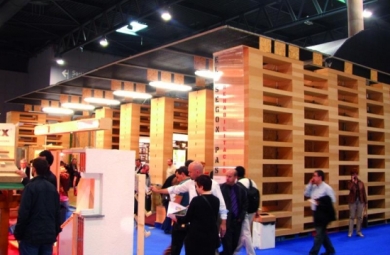 Elektromet boilers at Barcelona's Construmat Trade show
Palets Pla D'Urgell will participate in Barcelona's Construmat Trade show from the 21st to the 24th of May, along with the Polish brand Elektromet – supplier of the biomass boilers which the company has been commercializing since last winter.
Over the course of the 4 days which the International Construction show lasts, the company from Lleida will also release its star product, biomass briquettes, which are blocks of compacted wood which act as a substitute for firewood and coal.
This will be the first time that Palets Pla D'Urgell participates in a trade show in Barcelona, having previously participated in Lleida's Nature Trade show and Tarrega's Environment Trade show in 2011 and 2012. Those present at Construmat will be able to learn the benefits of Elektromet's biomass boilers (whose power ranges from 15KW to 200KW) and they will also be able to see a display of biomass briquettes.
More than 620 companies will take part in this year's Construmat show, which intends to facilitate the possibility of gaining access to the most dynamic international markets to companies from the building sector, especially to small and middle-sized companies, to compensate for the weakening of the home market.
With this goal, for the first time in its history the Trade show has organized a Contract Forum, where a total of 170 constructive projects from emerging economies will be presented. Parallel to this initiative the Trade show has also opted for rehabilitation and energetic efficiency as instruments to invigorate the national market.
---