Els nostres productes

Els nostres serveis
Biomass bricks for central heating
They are compacted wooden blocks which act as a substitute for wood and coal. Due to their high density (more than 1,000 kg/m3) they have great heating power (5,000 kcal/kg). They barely produce any ash (just 0.5%) and they are clean and easy to handle. They are a much cheaper alternative to diesel and are ideal for wooden and coal boilers, heating and fires. They can be purchased directly at our briquettes online store and they will be delivered to your home on pallets.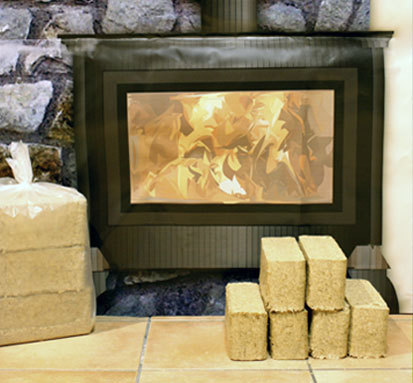 Delivery to your home on pallets
Contrary to firewood, briquettes do not leave residue when stored as they are delivered on uniform pallets and in small pieces. They are therefore an easy and clean solution to transport.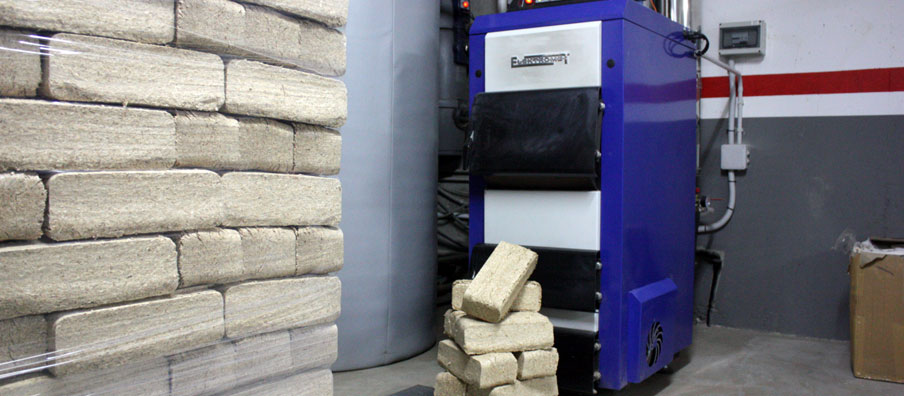 Briquettes delivery
We have weekly deliveries of briquettes within the Catalonian counties.
AREA 1

Weekly delivery

Pla d'Urgell, Segrià, Garrigues, Urgell, Segarra, Noguera.

AREA 2

Delivery in the third week of the month

Bages, Berguedà, Cerdanya, Alt Urgell, Solsonés, Anoia.

AREA 3

Delivery in the first week of the month

Vall d'Aran, Pallars Jussà, Pallars Sobirà, Alta Ribagorça.

AREA 4

Delivery in the fourth week of the month

Garraf, Alt Penedès, Baix Penedès, Alt Camp, Baix Camp, Priorat, Ribera d'Ebre, Terra Alta, Baix Ebre, Montsià, la Conca de Barberà, Tarragonés.

AREA 5

Delivery in the second week of the month

Vallès Oriental, Vallès Occidental, Maresme, Barcelonès, Baix Llobregat.

AREA 6

Delivery in the first week of the month

Ripollès, Osona, Garrotxa, Alt Empordà, Pla de l'Estany, Gironès, Baix Empordà, la Selva.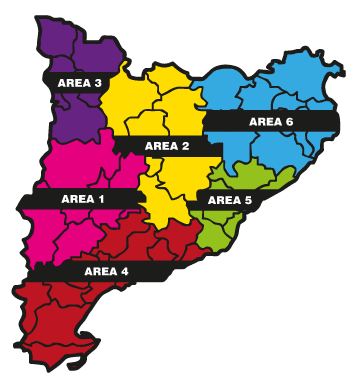 Compare and choose
10 kg. of briquettes have the same heating power as 17 kg. of dry wood.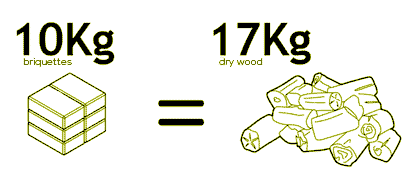 Palets Pla d'Urgell's briquettes have the following characteristics:
high calorific power (approx. 5,000 kcal/kg)
less than 9% humidity
they are not dirty: only generate 0.5% of ash
produced at high pressure: 1,800 kg/cm2
high density: more than 1,000 kg/m3
Comparison temperature/hours
Test carried out with the same product quantity in a boiler with airflow control.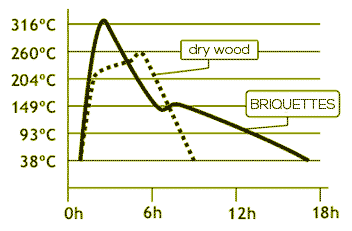 test carried by Biopellets LLC (Connecticut, USA)
Palets Pla d'Urgell's briquettes are ideal for:
fires
heating systems
wood boilers
coal boilers
---