04/02/2013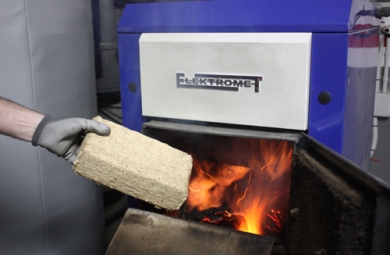 We begin the sale of biomass boilers
As part of their commitment to renewable energy, Palets Pla D'Urgell has begun to sell biomass boilers, used to burn wood briquette, wood, pellets or sawdust.
The power of the available boilers, from the Polish brand Elektromet, ranges from 15kW to 200kW, they are easy to install and they usually come with an inertia deposit.
They also have the advantage of being cheaper than oil, propane or natural gas heating, due to their increase in price over the last few years. Likewise, they can also be combined with other heating systems such as geothermal or biomass.
Through the sale of biomass boilers Palets Pla D'Urgell means to provide an economic solution to people who already use biomass briquettes, the company's star product.
The briquettes are blocks of compacted wood which work as a substitute for wood and coal. Due to their high density (more than 1000kg/m3), they have great calorific power (5000Kcal/kg). This is why they are ideal for domestic use. They are also cheap, easy to transport and produce practically no ash.
Those interested in purchasing a biomass boiler should get in touch with the company on (0034) 973.58.04.75 or by email info@paletspladurgell.cat. You can also visit some installations which Palets Pla D'Urgell has carried out in the Lleida area.
---